Is 10-Year Term Insurance Really the Best Choice?
Published on
June 09, 2017


Ten-year term is consistently one of the most often-sold products in the life insurance business. Though it is usually the "cheapest" in the short term, we sometimes have trouble convincing clients that it is not the best deal in the long run. To help our agents enlighten clients on that topic, we're attaching the latest life expectancy chart for 60-year old males. 

Life Expectancy Chart

In the chart below you can see that a 60-year old male has an 84% chance of living at least 10 years. Therefore, a 10-year term may not be the appropriate product for most insurance needs when you consider the high probability of outliving the coverage. Of course there will always be situations where there is a short-term need (key-person, loan obligations, etc.) and the term product is appropriate.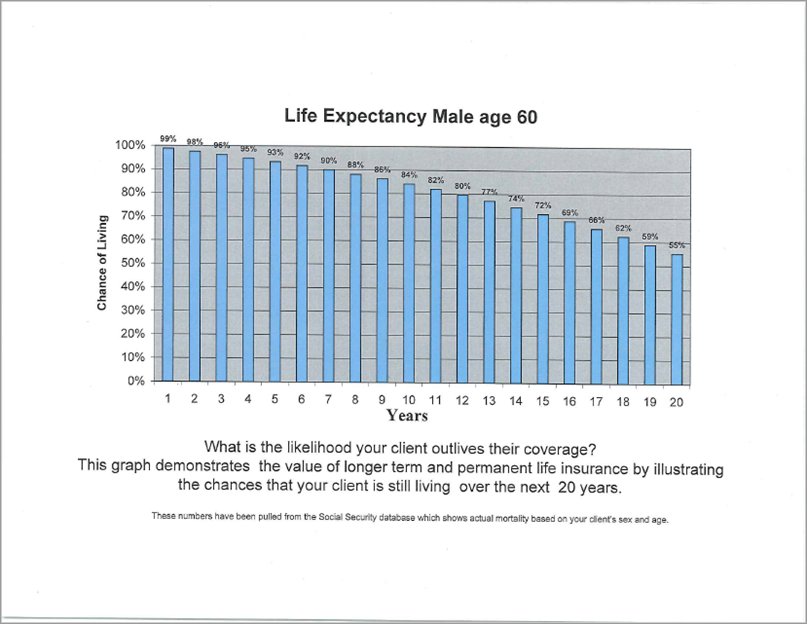 What are the options at the end of the ten years?
Conversion to permanent coverage, which may not be available depending on age and contract provisions.

Renewal at incredibly expensive Annual Renewable Term (ART) rates with premiums clients rarely pay.

Shop the term marketplace and based on new underwriting, try to secure a new term policy but at an older, more expensive issue age.

Drop the coverage entirely and leave heirs unprotected.
OR, instead of 10-year term, consider some better options:
Present other product alternatives such as a guaranteed death benefit UL with customized coverage protection durations that cover a reasonable life expectancy.

Longer duration term of 15 or 20 years depending upon needs and premium tolerance.

Current assumption UL - either fixed or indexed UL.

At GBS Insurance we have the expertise and experience to assist you in designing the best solution for your clients' insurance needs. We have product solutions from over 20 highly rated carriers. Call us to discuss your next case!