Calculating LTC Costs - Genworth Cost of Care Map
Published on
October 02, 2017

Use this tool to project long-term care expenses with your clients

The Genworth Cost of Care Study is one of the industry's most comprehensive cost evaluations of more than 43,000 long term care providers across 440 cities and regions. For over 14 years, the national study has played an effective role in helping financial professionals map out a plan for their clients long term care needs.

This new interactive cost of care map helps your clients prepare for their future when it comes to long-term care, based on the location and the type of service they are looking to receive.

This online map is a powerful planning tool that enables you and your clients to:
Calculate long-term care expenses where they plan to live.

Compare costs and view state rankings.

Project future costs of long-term care services.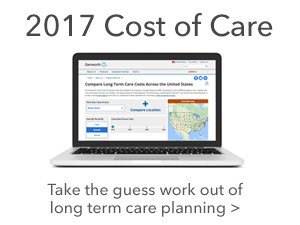 Click here to access the cost of care map.